About Mutual Consulting
Working Together at Getting Better: How a truly flexible, consultative approach came to be...
Mutual Consulting's purpose is to promote an organizational culture that empowers all personnel to be involved in HSE matters, so that they proactively take action to reduce risk, protecting people, equipment and the environment.
We help companies with their Occupational Health and Safety Management Systems through Process Design, Hazard Identification, Planned Inspections, Risk Management, Incident Investigations, Root Cause/Contributing Factors Analysis, Emergency Response Planning, Auditing, and through the training and coaching of industry personnel.
Our approach is collaborative rather than dictatorial – in addition to providing our expert guidance, we draw on the wealth of experience, knowledge and leadership skills possessed by our clients in order to achieve the best results possible in terms of effective, efficient implementation and the dissemination of new systems and processes.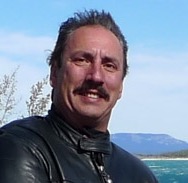 Founder Dan Desgagne has acquired over 30 years of practical, hands on field and operational experience in the oil and gas industry. He has always been heavily involved in health and safety throughout his career as a field safety supervisor, manager and safety services business owner. This wealth of experience is augmented by Dan's extensive, contemporary professional qualifications.
Dan has assisted in the growth and development of several safety departments and service companies. He brings a wide range of knowledge, skills and proficiency toward the development of safe work practices recognized and applicable in today's workplace.
Dan began his working life in construction, then initiated his oil field career with Dresser Titan, a well services frac stimulation company in Grande Prairie, Alberta. In the role of Safety Manager, he was responsible for training personnel on the operation and maintenance of frac equipment, and instructing on a wide range of industry standard certifiable courses. He developed and implemented many safe work policies and procedures, including professional driver improvement/safe driving courses, company specific safe working practices, cultural/behavioural/motivational guidelines and systems for conflict resolution.
As Dan's career evolved, he took on further responsibilities to include the sales and the management of safety service companies, contributing to their growth, development and recognition, making them strong industry contenders. He worked as the field Safety Supervisor on critical sour drilling and completion operations, pipeline construction, plant shutdowns, turnarounds and construction projects throughout western Canada and the North West Territories. Dan continued in this role while taking on additional responsibilities, such as participation in committee planning with PSAC and PITS (ENFORM) on critical sour H2S drilling and completion projects, and on ERPs (emergency response plans).
Ultimately, Dan purchased and advanced his own safety company and grew rapidly from several units to forty units, providing services to O&G and construction companies. The company was the first to introduce the safety trailer/office combination, a standard in the field today. Upon the birth of his first child, Dan sold his company and moved into Calgary sales, but remained actively involved with health and safety. Taking on multiple responsibilities as sales manager and HSE rep further cemented Dan's belief that a quality health and safety management system – as an integral component of a company's strategy – can be accurately aligned with commercial targets.
While employed as Training Manager at Precision Drilling, upon repeatedly hearing of the need for experienced safety personnel, Dan made the decision to offer his experience and knowledge of health and safety as his sole focus. He later enrolled into the University of Calgary to earn his Occupational HSE certification and acquire his External Auditors certificate, then established Mutual Consulting Inc. in 2012. He now assists in the development of companies in need of guidance, advice, or any level of support to develop safety programs that are are suitable and in compliance of all laws and regulations. These services are provided while maintaining a strong business focus and quality communication with all stakeholders – delivering the best health and safety systems possible while ensuring that internal objectives and targets are achieved or exceeded.
Sound health and safety policies and adherence to health and safety laws, as a minimum, are absolutely vital for any company; complying with regulatory stipulations and meeting industry standards is essential in Canada and throughout most of the developed world. Sometimes, however, more consideration could be given to the manner and methods by which policies and processes are applied – with greater focus on their effect on the performance of the company as a whole. Dan Desgagne saw this need for a business-minded approach to health and safety policies, and so delivers safety consulting services with an emphasis on efficiency and pragmatism – helping to protect the bottom line while still retaining absolute and total regard for applied laws and regulatory requirements.
This vision and deeper understanding of our clients' business requirements drives Mutual's practices and service delivery. Our services are tailored to meet the customers' needs, our approach truly consultative and cooperative rather than instructive.
Request A Free Consultation - (403) 651 4131
For a free consultation, advice, or answers to any questions you might have, get in touch with us - we will respond as quickly as possible.
Contact Us